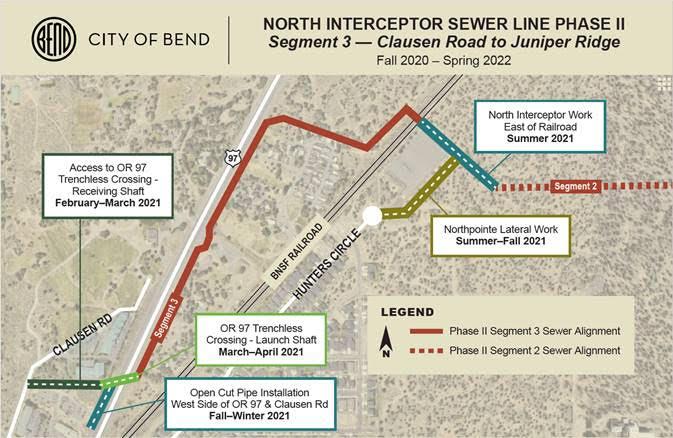 Jennifer VanCamp has applied for a permit to construct 116 new homes on a 5.45 acres parcel at 20312 Halfway Road. The parcel is zoned Multi-family Residential. She is asking for a Class C variance to exceed the 30 foot RM zone height limit. Comments are due to the City Planning staff by March 15, 2021.
Send to Aaron Henson ahenson@bendoregon.gov 541-383-4885.
LBLM Investments LLC is proposing two industrial buildings totaling 42,946 sq. ft. on 144.94 acres in the Light Industrial zone, the Brinson Light Industrial zone. The parcel is just southwest of the Brinson and 18th streets intersection. Written comments may be submitted by March 16, Karen Swenson, planner, kswenson@bendoregon.gov
Sewer work continues - Phase II of the North Interceptor sewer is ongoing. Crews will install concrete headwalls for the Central Oregon Irrigation District laterals and hydroseeding work will be completed. Work includes repaving on city streets. New trenches will l be dug adjacent to HWY 97 in the next phase.